Mesh Belt Dryer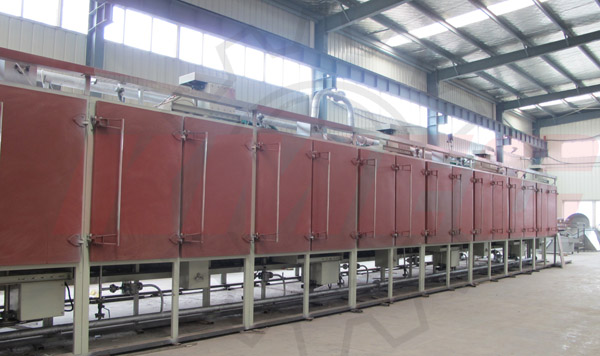 Ⅰ Introduction
Through the work of auxiliary equipments such as star type distributing device, swinging belt, pulverizer and pellet mill, material will be conveyed by belts through some passageways composed of one or several heating units. Each heating unit is equipped with air heat cyclic system and each passageway with one or several dehumidification systems. During the conveying, material will contact with hot air in a contrary direction so that it can be dried evenly.

Technical Parameters
Model
GC-DW-1.2-8
GC-DW-1.2-10
GC-DW-1.6-8
GC-DW-1.6-10
GC-DW-2-8
GC-DW-2-10
Unit Qty
4
5
4
5
4
5
Belt width (m)
1.2
1.6
2
Drying section length (m)
8
10
8
10
8
10
Auxiliary material thickness (mm)
10-80
Temperature (℃)
60-130
Steam pressure (MPa)
0.2-0.8
Steam consumption (Kg/h)
120-300
150-375
150-375
170-740
180-500
225-600
Drying time
0.2-1.2
0.25-1.5
0.2-1.2
0.25-1.5
0.2-1.2
0.2-1.5
Drying strength(water) (Kg/h)
60-160
80-220
75-220
95-250
100-260
120-300
Total power of fan (Kw)
9.9
12.1
9.9
12.1
18.2
22.2
Total power of equipment (Kw)
11.4
13.6
11.4
13.6
19.7
23.7
Overall size
L (m)
9.77
11.77
9.77
11.77
9.77
11.77
W (m)
1.5
1.5
2.24
2.24
2.66
2.66
H (m)
2.83
2.83
2.83
2.83
3.50
3.50
Total weight Kg
4800
5780
5400
6500
6350
7800
Ⅱ Product Features
Capable of processing material with high efficiency by simply adjusting air volume, heating temperature, retention time of material and feeding speed;
Adaptively equipped with other peripheral facilities such as belt washing device and material cooling system;
Excelling in air cyclic utilization and efficient energy preservation;
Thanks to the unique air distributing system, hot air will be dispersed evenly and thoroughly to assure the drying quality;
Heat source includes steam, conduction oil, airheater and so forth.
Ⅲ Product Usage
Possessing an outstandingly continuous operation, it is widely used in sectors of chemical industry, food processing, pharmaceutical industry, building materials and electronics, in particular, to dry flaked, stripped or granulated material with better air permeability. As for pasty materials like filter cakes, they shall be processed by pellet mill or flaking mill before being dried.
Ⅳ Scope of Application
The drying system is commonly applied in fields of processing dehydrated vegetables, pellet feed, monosodium glutamate, shredded coconut stuffing, organic pigment, propylene fiber, pharmaceuticals, medicinal herbs, small wooden articles, aging and solidifying electronic elements, calcium carbonate and white carbon black.