Heated Air Circulation Dryer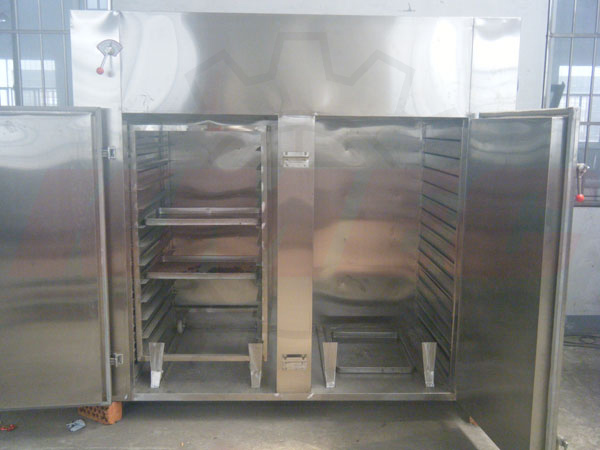 ⅠExplanation:
Steam, electricity, far IR and pneumoelectric can be the heater for users to choose.
Operating temperature: heat to 50-130℃ by steam, and the highest temperature is 140℃.
50-300℃ by electricity or far IR, mate automatic control system or computer control system for users to choose.
Common steam pressure: 0.2-0.8mpa (2-8kg/cm2).
Mated electrical heating calculated by 1 is 15 kw, practically use 5-8kw/h.
If there are special requirements, put forward it when ordering.
Price is negotiable with the non-standard dryer.
If operating temperature is larger than 140℃ or smaller than 60℃, please sign it when odering.
The drying machine and drying plate made in our company is unified size, which can be interchange with each other.
Size of drying plate: 460X640X45mm
ⅡTechnical Parameters:
Model
Capacity for each time (Kg)
Power (KW)
Steam consumption(Kg/h)
Heat dissipating area (m2)
Air volume (m3/h)
Temperature difference from top to bottom(℃)
Matched drying plate
Dimension (LxWxH) mm
Matched drying machine
GC-CT-C-0
25
5
5
5
3400
±2
8
1400×1200×1600
0
GC-CT-C-IA
50
0.45
10
10
3400
±2
24
1400×1200×2000
1
GC-CT-C-I
100
0.45
18
20
3450
±2
48
2300×1200×2000
2
GC-CT-C-II
200
0.9
36
40
6900
±2
96
2300×2200×2000
4
GC-CT-C-III
300
1.35
54
80
10350
±2
144
2300×3220×2000
6
GC-CT-C-IV
400
1.8
72
100
13800
±2
192
4450×2200×2000
8
Efficient and high temperature far IR sterilized dryer, the power supplied is according to the temperature
1200×1000×1600
ⅢGeneral Introduction:
CT-C heated-air circulation dryer equipped with low noise and high heat resistance axial flow fan and automatic temperature control system, the whole recycle system is totally sealed to improve the dryer heat efficiency from the traditional 3~7% to present 35~45%, and the highest heat efficiency can be 50%. CT-C dryer made our heated-air circulation dryer meet domestic and international advanced level, save large number of energy for our country and improve the economic benefit for our company. In 1990, State Pharmaceutical Administration issues the industrial standard, and the unified model is RXH.

ⅣApplication:
CT-C heated-air circulation dryer applies to the materials used in pharmacy, chemical industry, food, farm product, aquatic product, light and heavy industry, and it is used for heating, solidifing, dewatering and drying. Such as bulk pharmaceutical chemicals, crude drug, traditional Chinese medicine slice, extract, powder, pellet, electuary, water-bindered pill, packing bottle, coloring matters, dehydrated vegetable, dried melon and fruits, sausage, plastic resin, electrical equipments and baking finish, etc.
ⅤFeatures:
Most hot air is circulating inside the chamber with high heat efficiency and energy saving. Make use of the forced ventilation, install the adjustable plates in the chamber, and the materials dried uniformly. Heat source has a wide choices of steam, hot-water, electricity and far IR. The dryer is a general drying equipment with a wide application, it can dry variety of the materials with the advantages of small noise, balanced running, self-controlled temperature and easy to install and maintain.